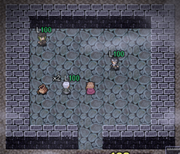 A shadowy organization that only serves those held in low esteem by the rest of society. A Dark Brotherhood Pass is required for entry, however Pirates may enter without a pass. Destroying the walls of the Dark Brotherhood will allow you to enter, but vendors will refuse to talk to you.
Backpack Vendor
[
]
For 1000 Silver, this vendor will sell you a one-time upgrade of your backpack, giving you 10 extra carrying capacity.
Black Market Vendor
[
]
Sells rare and expensive items. The only vendor to sell stat-boosting items.
| Item Name | Value | Effect |
| --- | --- | --- |
| Key of Seals | 4000 | Opens a sealed door. |
| Vial of Organic Healing | 800 | Heals 30 hp each turn for 7 turns. Will not affect party members. |
| Clever Fox Tail | 8000 | Will increase either intellect or willpower by 1 level. |
| Beautiful Otter Pelt | 8000 | Will increase either agility or charisma by 1 level. |
| Radiant Horse Hooves | 12000 | Will increase either strength or vitality by 1 level. |
| Scroll of the Phalanx | 2000 | Will apply a medium to high level skill to the currently equipped armor. |
| Scroll of the Sword Saint | 2000 | Will apply a medium to high level skill to the currently equipped weapon. |
| Scroll of repair | 3200 | Repairs the equipped weapon and armor durability by 50 points each. Does not affect accessories. |
| Buddy Tablets | 800 | Pacifies target |