We're Getting Mutants in the MCU - The Loop
Play Sound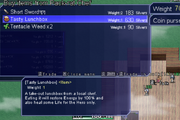 Every Monster and NPC has a chance to carry an optional modifier that affects its stats, inventory, and behavior.
Character Modifiers
[
]
The modifier attached to a monster seems to be a primary factor in determining XP. Even the strongest enemies in the game will only provide 6% or 7% XP without a modifier. Ultimate, Wanted, and Villainous appear to provide the most XP. Note that most modifiers which raise HP similarly raise attack power and possibly other stats, and since the multiplier is applied before armor, it appears proportionally greater than the HP increase. It is unknown if they both use the same multiplier.
For more details about Prefixes, check this article.
| - | NPC Prefix | HP | Strength | Accuracy | Armor | Defense | EXP | Notes |
| --- | --- | --- | --- | --- | --- | --- | --- | --- |
| | Ancient | 500% | 130% | 150% | 0 | 100% | 400% | Carries Crystal of the Ancients. |
| | Cheap | 100% | 100% | 100% | 0 | 100% | 100% | Items sold will be worth half and items bought will cost twice as much. |
| | Crazy | 100% | 130% | 100% | 0 | 100% | 150% | |
| | Eagle-eye | 100% | 100% | 100% | 0 | 100% | 130% | Detection range +3. |
| | Fire-breathing | 100% | 100% | 100% | 0 | 100% | 180% | Uses a Fire breathing attack. |
| | Fleet-footed | 100% | 100% | 100% | 0 | 100% | 100% | 2x Movement in Maniac mode. |
| | Frail | 70% | 60% | 100% | -10 | 80% | 80% | |
| | Infamous | 140% | 150% | 120% | 0 | 100% | 200% | |
| | Jewel hunter | 100% | 100% | 100% | 0 | 100% | 100% | Carries Jewels. |
| | Naughty | 100% | 100% | 100% | 0 | 120% | 150% | |
| | Near-sighted | 100% | 100% | 100% | 0 | 100% | 100% | Detection range -2. |
| | Pack-rat | 140% | 100% | 100% | 0 | 100% | 100% | Carries addtional items. |
| | Perverted | 100% | 100% | 100% | 0 | 100% | 100% | |
| | Phantom | 100% | 100% | 100% | 0 | 100% | 300% | Carries equipment. (Not to be confused for the enemy "Phantom Knight") |
| | Rich | 100% | 100% | 100% | 0 | 100% | 100% | Carries addtional silver. |
| | Seeking | 100% | 100% | 200% | 0 | 100% | 140% | |
| | Stiff-necked | 100% | 100% | 100% | 5 | 150% | 250% | |
| | Tough | 140% | 170% | 100% | 0 | 100% | 230% | |
| | Ultimate | 450% | 270% | 100% | 0 | 100% | 600% | |
| | Villainous | 200% | 230% | 100% | 0 | 100% | 350% | |
| | Wanted | 300% | 200% | 100% | 10 | 100% | 400% | Detection range -2. Carries addtional items / silver. |
| Companion NPC Prefix | HP | Strength | Accuracy | Armor | Defense | Notes |
| --- | --- | --- | --- | --- | --- | --- |
| Brilliant | 100% | 130% | 120% | 0 | 120% | |
| Buff | 200% | 100% | 100% | 0 | 100% | |
| Chick-Diggin | 100% | 100% | 100% | 0 | 100% | Has different dialogue. |
| Frail | 80% | 80% | 100% | 0 | 100% | |
| Hunk-Huntin | 100% | 100% | 100% | 0 | 100% | Has different dialogue. |
| Masochist | 150% | 100% | 100% | 0 | 120% | Has different dialogue. |
| Naughty | 130% | 100% | 100% | 0 | 100% | Has different dialogue. |
| Stiff-necked | 100% | 100% | 100% | 0 | 150% | |
| Tough | 120% | 120% | 100% | 0 | 100% | |
| Ultimate | 150% | 200% | 100% | 0 | 100% | |
| Vagrant | 30% | 130% | 100% | 20 | 150% | |