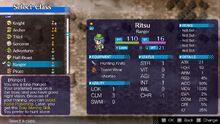 Class Description:
You are a lone Ranger. Your preferred weapon is the bow, and you have good night vision. Because of your training, you can avoid Food Poisoning. Later, you get the Trap Making Skill. You prefer to hunt alone.
Unlocked by purchasing with Dream stones [No other requirements]
Starting Stats:
HP: 110
ST: 16
Lapis: 0
WT: 21
STR: 1
VIT: 0
AGI: 2
INT: 1
WIL: 0
CHR: -1
Starting abilities:
Lockpicking: 1
Climbing: 3
Swimming: 0
Starting Equipment:
Weapon: Hunting Knife
Stats:
[PATK: 3 , Combo: 15% , WT: 1] Durability: [200/200]
Armor: Travel Wear
Stats:
[ARM: 1 , RED: 4% , WT: 2] Durability: [100/100]
Accessory: None
Stats:
None
Gifts:
Ranger's Forestry: 1.2x damage with bows and 1.1x damage against beasts. Better vision at night and can detect treasure chests. Can't get Food Poison debuff and get increased XP from dungeons.
Skills: