"I've been developing websites since December of 1998, and now develop with a focus on games and game development tools. I'm always dedicated on making sure the fun elements of my games are obvious to players from the moment they start playing. There are a variety of other products on my website, so if you are interested, please take a look. Despite my username, I actually have never smoked before."  
                                    - SmokingWOLF (translated bio on Playism's store page )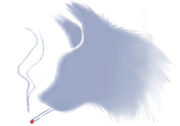 SmokingWOLF is a Japanese indie game developer who developed One Way Heroics. He created the development tools like the Wolf RPG Creator engine (which One Way Heroics runs on) and other games not yet available in English. Most of his games that is not published or localized by Playism are free to play.
He also created other websites since 1998.  
Games
[
]
One Way Heroics (Katamichi Brave)
One Way Heroics Plus  (Katamichi Brave Plus)
Monolith-Sphere (JP - free to play)
Sylph-Dragoon (JP - free to play)
Silhouette Note (JP - free to play)
Sirufeido Academy Story (JP - free to play)
Shephard Investigation (JP mobile - free to play)
Cliff Abyss (JP mobile - free to play)
Links

[

]
Official Website (JP)